McLean Design Guidelines: Visual Preferences Survey
The purpose of this survey is to gauge the public's visual preferences for the various elements that contribute to the look and feel of McLean. Your responses will help Fairfax County formulate new District Design Guidelines for McLean, which will contain written and visual ideas for the design of streets, lighting, and the area fronting buildings. The guidelines will provide design direction to enhance the appearance of the McLean Community Business Center. It is a companion document to the Volume I: Urban Design Guidelines for Fairfax County Revitalization Districts and Areas. These two volumes will be used together when proposing, designing, or reviewing development projects.
The District Design Guidelines for McLean are expected to take approximately one year to complete. Currently, the projected Board endorsement date is late 2022. There will be additional opportunities for the public to participate in 2022. For the latest information about the District Design Guidelines for McLean, visit: fcrevite.org/mclean/design-guidelines. For questions, please email JoAnne.Fiebe@fairfaxcounty.gov or call (703) 324-9308.
Thank you for taking a few minutes to share your thoughts with us!
Note: Click on the images to enhance your view. To advance the survey, you must scroll to the bottom of each page and click the 'Continue' button.
Fairfax County, VA Survey
PAVING MATERIALS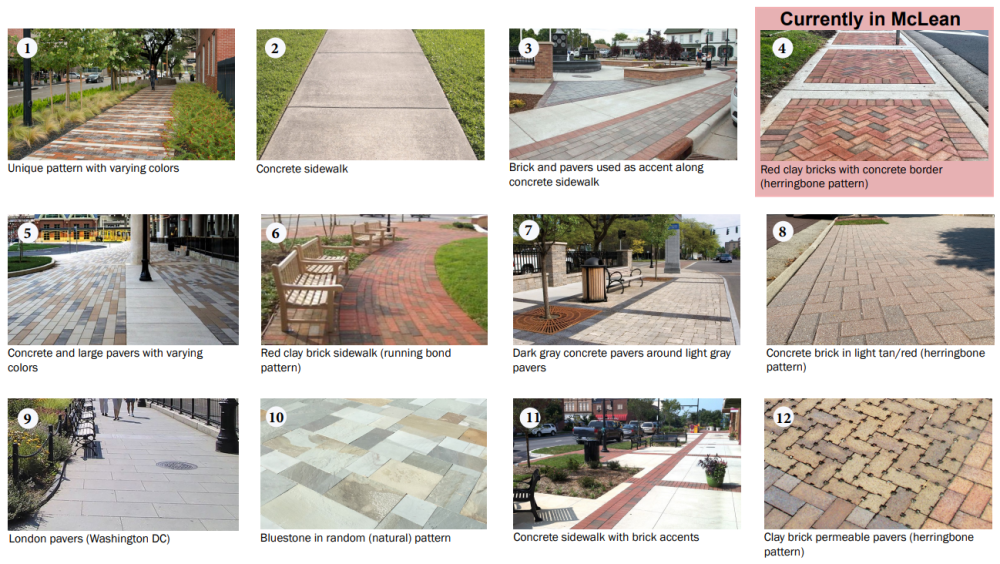 Fairfax County, VA Survey
Fairfax County, VA Survey